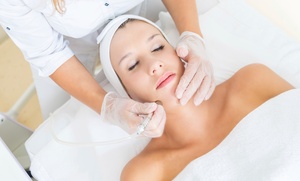 Courses - All facials have a progressive effect and work even more effectively taken as a course. Buy a course of five facials and get your sixth free!!!
DIAMOND TIP MICRODERMABRASION
5
0mins
£45.00 / 30min £30
This treatment is ideal for skins showing some of the following conditions:
Using a diamond cut abrasive tip combined with vacuum suction, dead surface skin cells are instantly whisked away.
The tip texture and vacuum intensity are changed and controlled to suit your skin. Treatment is combined with vitamin serums and complementary mask.
Leaves your skin feeling instantly smooth with a revived glow. Blackheads are reduced.
Performing Diamond Tip abrasion using your DermaCo Pro system is quick and painless and will rejuvenate and regenerate your skin. The removal of the dead skin cells will encourage increased growth of new skin cells. The new cells will travel outwards and replace the old dead cells that have been removed by microdermabrasion.
Benefits of Microdermabrasion
Improvement of skin tone, colour and texture
Increased elasticity
Reduction of enlarged pores
Removal of surface skin lines and wrinkles
Removal of discolouration caused by sun damage
Reduction of oily skin
Fresher and younger looking skin
Depending on the skin's condition, a course will be recommended (between 3 and 10 treatments).